Franjo Tuđman
Franjo Tuđman (President of the Republic of Croatia from 1992 to 1999)
Dr. Franjo Tuđman was born 14 May 1922 in Veliko Trgovišće, where he attended primary school, while he completed secondary school in Zagreb. From 1941 onwards, he partook in the anti-Fascist partisan movement. After World War II, he completed his studies at the Higher Military Academy in Belgrade. Despite being promoted to the rank of general in 1960, in the following year he withdrew from active military service to pursue a scholarly and literary career. He founded the Institute for the History of the Workers' Movement in Zagreb in 1961, and remained its Director until 1967. In 1963, he was elected Professor at the Faculty of Political Science, University of Zagreb, and then in 1965 earned his doctorate degree in history. He published a fair number of books and papers on history, military theory, contemporary national history, philosophy of history and international relations.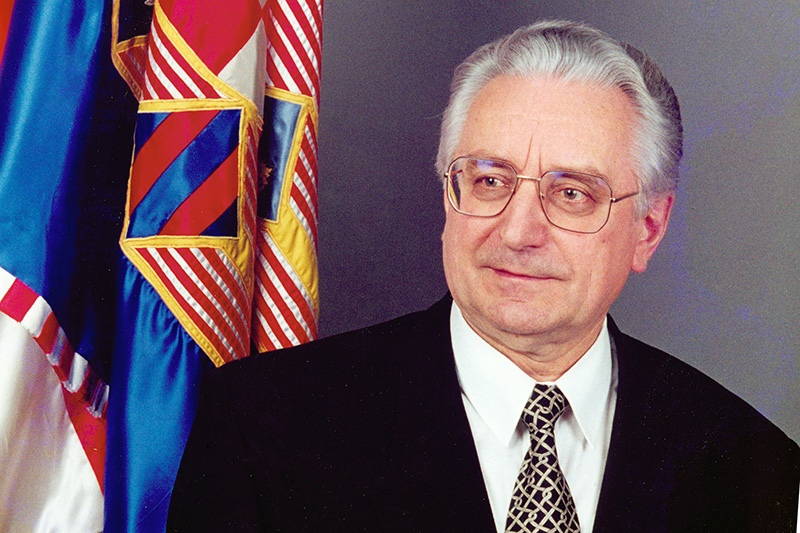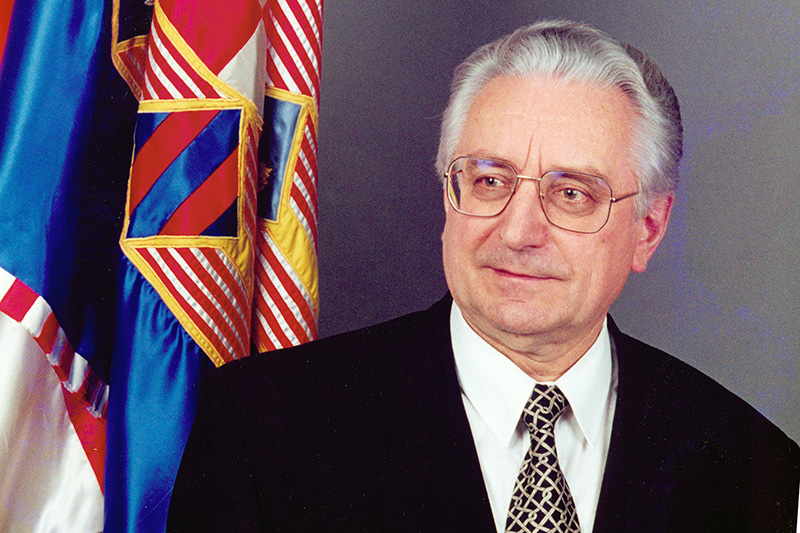 Tuđman's views – primarily his opposition to the imposition of a guilt complex on the Croatian nation because of the actions of the Independent State of Croatia (NDH) during World War II – exposed him to political, and later legal prosecution. In 1967, he was expelled from the League of Communists of Croatia and also had to leave the Institute. He was expelled from the University of Zagreb and forced to retire in order to prevent him from leading an active public life.
In the first political trial in 1972, he was sentenced to two years imprisonment, then in 1981 received a three year prison sentence, and was given a five-year ban on all public activity due to giving foreign interviews – to Swedish and German television channels and a French radio station – in which he outlined his historical opinion in favour of pluralistic democracy. From 1987 onwards, when his passport was returned, he travelled abroad giving lectures which consequently brought about the awakening and creation of the Croatian national democratic movement among Croatian emigrants. In 1989 he founded the Croatian Democratic Union (HDZ) and became its first President.
Following the victory of HDZ at the first democratic elections held in Croatia after World War II, the Parliament elected him President of the Presidency of the then still Socialist Republic of Croatia on 30 May 1990. Upon the adoption of the new democratic Constitution of the Republic of Croatia on 22 December 1990, he was elected President of the Croatian state at the ensuing direct Presidential elections held in August 1992. In June 1997, he was re-elected as President. Under his successful leadership of Croatian domestic and foreign policy, and military-police actions and operations during the Homeland War, he made what is a key historical contribution to the sovereignty, independence and international recognition of the Republic of Croatia.
He died in Zagreb on 10 December 1999, and was laid to rest at Zagreb's Mirogoj Cemetery on 13 December with full state and military honours. The funeral was attended by hundreds of thousands of Croatian citizens.