Kolinda Grabar-Kitarović
Kolinda Grabar-Kitarović (President of the Republic of Croatia from 2015 to 2020)
Kolinda Grabar-Kitarović was born 29 April 1968 in Rijeka, where she attended primary school. She completed secondary school in Los Alamos, New Mexico, United States of America.
In 1993, she obtained a degree in English and Spanish from the Faculty of Philosophy, University of Zagreb, and in addition completed further education in Portuguese. In 1994, she completed the Diplomatic Academy in Vienna and in 2000 obtained her Master's degree in International Relations from the Faculty of Political Science, University of Zagreb. From 2002 to 2003, she was a Fulbright scholar on pre-doctoral research in international relations and security policy at the George Washington University, United States of America. At the time she was awarded the President's Medal for scientific, social and political work. She was also a Lukšić Fellow in Senior Managers in Government Executive Program at the J.F.K. School of Government at Harvard in 2009 and in 2019 she was awarded the Fulbright Lifetime Achievement Award.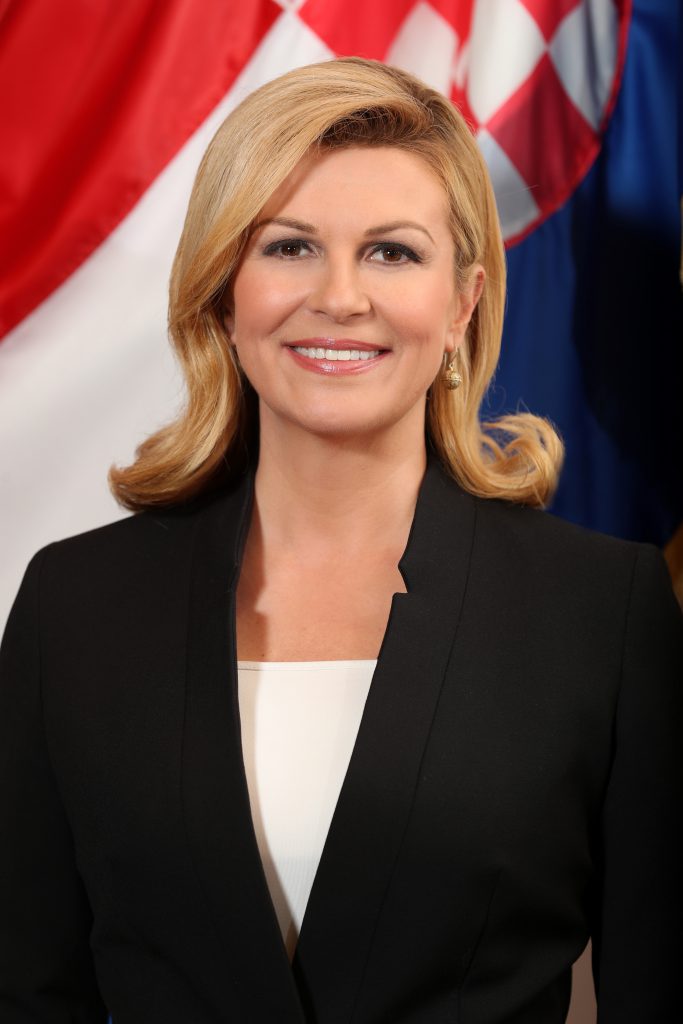 Kolinda Grabar-Kitarović began her career in 1992 in the Ministry of Science and Technology and in 1993 moved on to the Ministry of Foreign Affairs, where she held various positions – in 1995 she was Head of Department for North America, in 1997 she worked as Counsellor in the Croatian Embassy in Canada, later as Minister-Counsellor and Deputy Chief of Mission.
From 2001 to 2003, she was Minister Counsellor in the Ministry of Foreign Affairs and in November 2003 was elected Member of Parliament in the 7th electoral district. The same year, she was sworn in as Minister of European Integration, and in 2005 as Minister of Foreign Affairs and European Integration, office she held until 2008. The major objective of her term was to lead Croatia on its path to Euro-Atlantic integration and she was Head of the State Delegation for Negotiations on the Accession of the Republic of Croatia to the European Union.
In 2008, Kolinda Grabar-Kitarović became Ambassador of the Republic of Croatia to the United States of America. In 2011, she was appointed NATO Assistant Secretary-General for Public Diplomacy, position she held until 2014, as the first woman Assistant Secretary-General ever in the history of NATO and the highest ranking woman in NATO.
As the first woman President in the history of the Croatian state, Kolinda Grabar-Kitarović held office from February 15, 2015 to February 18, 2020. In March 2019, she was elected Chair of the Council of Women World Leaders.
She is married and mother of two. She is fluent in English, Spanish and Portuguese and has some command of Italian, French and German.