Stjepan Mesić
Stjepan Mesić (President of the Republic of Croatia from 2000 to 2010)
Stjepan Mesić was born 24 December 1934 in Orahovica. In 1961, he graduated from the Faculty of Law of Zagreb University. During his studies he was a prominent student leader. He entered the political scene in 1965 as a Member of Parliament of the then Socialist Republic of Croatia, when he was elected on the citizens' list. In the early Seventies, he was sentenced and served a one year prison term in Stara Gradiška for having participated in the "Croatian Spring" movement, which advocated Croatia's equality in the then Yugoslavia. In the early Nineties he joined the Croatian Democratic Union (HDZ), and during his membership held the posts of Secretary of HDZ and later Chairman of its Executive Committee.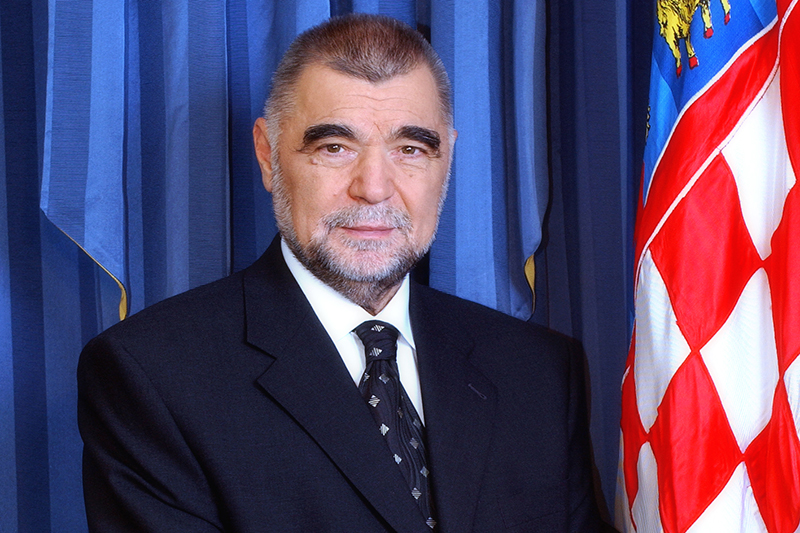 Following the first multi-party elections in 1990, he was appointed the first Prime Minister of the Republic of Croatia. Pursuant to the resolution of the Croatian Parliament, on 25 August 1990 he became Croatia's representative in the Presidency of the Socialist Federal Republic of Yugoslavia. At the onset of 1991, he had an important role in preventing a coup by the top generals of the Yugoslav People's Army (JNA) against the democratically oriented republics of Croatia and Slovenia.
In July 1991, he became the President of the Presidency of the Socialist Federal Republic of Yugoslavia (holding the post until December 1991).
From September 1992 until May 1994 he held the post of Speaker of the Parliament of the Republic of Croatia. Not concurring with the HDZ's policies, particularly in relation to BiH, he left HDZ and founded a new political party – Independent Croatian Democrats (HND). In 1997, after a split in the HND party, he entered the Croatian People's Party (HNS) together with a majority of HND's ex-members. In HNS, he held the post of Executive Vice President and Chairman of the municipal organisation of the same party in the City of Zagreb.
In February 2000, Stjepan Mesić was elected President of the Republic of Croatia and was re-elected in January 2005. During his mandate, the Republic of Croatia became a member of the North Atlantic Treaty Organization (NATO).